Digital transformation is on everyone's lips, especially now that we're experiencing pandemic isolation and wondering how to rearrange processes once designed for a different reality (that won't be coming back). In a colloquial sense, digitalization is about changing or creating new business models using technology. In the case of HR, an organization's challenge is to figure out how digitalization can take the employee experience to a higher level, while improving employee performance.
How to start HR digitalization?
When planning IT projects, we have a natural tendency to overcomplicate requirements, and in particular to map current solutions enriched with new expectations in the target system. A typical scenario is a project of moving most applications supporting HR processes to the cloud.
Our proposal is different. Let's try asking a few questions to employees and managers first:
Which HR processes should be transformed (simplified, changed, automated)?
Which processes need to be digitalized now and which can wait?
What benefits can this change bring us?
How much effort and time will it cost us to transform these processes?
Once we have a list of suggestions and ideas, let's rank them based on two criteria: potential benefits (impact on employee experience and performance) and cost of transformation (including required involvement of our employees). On this basis, we can build a digitalization strategy.
The recipe for digital transformation becomes simple: following the strategy, the organization should start with ideas whose implementation will bring business benefits quickly and at an acceptable cost.
Organizational culture!
The digital transformation of HR is not just about technology. It is, above all, a change in the way of thinking about many processes (development and performance management, recruitment, training, etc.) and, consequently, a change in the organizational culture. Persuading managers to engage in a continuous dialogue with their subordinates instead of holding schematic meetings on annual goals, entrusting development planning to employees, or focusing on mentoring – these are just some examples. In many cases, digital transformation will fail without a cultural change.
The experience of the pandemic is prompting a rethinking of employee needs. While HR departments previously focused on recruiting, onboarding or development, they now face new challenges such as hybrid work, employee wellbeing (including wellbeing programs), remote training and mentoring. Unfortunately, organizations no longer have the comfort of planning changes slowly and meticulously. In the new reality, agility is the key.
Big or small projects?
We are at a point now where long projects aimed at preparing "perfect" solutions will not work in many cases. The extraordinary popularity of agile methodologies in almost every area of business (including HR) is not accidental. Organizations need quick results that can evolve later, but the benefits of solutions should be visible in just a few months (as opposed to big-bang projects, which take an average of 12 months).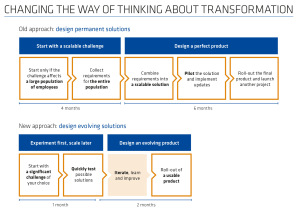 An example of a transformational project – the magic number 3
The consulting company McKinsey offers a simple and extremely effective approach to managing employee goals and learning. The 3x3x3 method is based on three principles:
An employee may have a maximum of 3 development goals defined;
These goals should be achievable within a period of not more than 3 months;
In order to achieve these goals, we should use communication with at least 3 people.
Why the number 3? The number of goals, on the one hand, should not be too large so that an employee can focus on them, on the other hand, it should not be less than 3 so as not to limit the employee and allow them to take advantage of opportunities and to minimize the risk of failure (when, for example, we fail to achieve one goal, we have two more that can be achieved). Besides, each of us has more than one domain in which we want or need to grow. When employees have too many goals (more than 3), they lose focus, moreover, they forget about some of them.
Three months is long enough to get measurable results (with properly defined goals) and short enough not to succumb to the temptation of procrastination. Three months is a good period to review and revise goals, giving a chance to get feedback from a supervisor or to modify challenges if the situation requires it.
Organizations underestimate the importance of the so-called goal socialization. Involving others (at least 3 people) in communication or cooperation in achieving goals is, according to psychologists, one of the strongest motivators. It also means working on joint development and collective celebration of successes. Finally, it is a healthy social pressure on the way to achieving goals.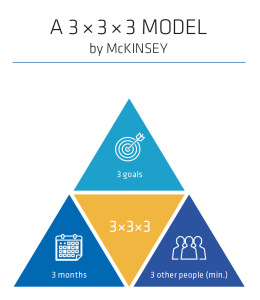 Implementing a simple 3x3x3 model can result in increased employee performance and satisfaction, but may also require interference in established patterns and procedures, and above all, a change in the organizational culture.
An organizational change and SuccessFactors
How can such a change be supported by SAP SuccessFactors solutions? This is where the Performance & Goals, Continuous Performance, Continuous Feedback and Development features come in handy. The implementation of this package using the Best Practices method can be carried out within 3 months. How to support the 3x3x3 approach with technology? Here are some tips:
Development goal plans should be defined on a quarterly basis;
The employee should have a maximum of 3 development goals for a period of 3 months;
The employee should be able to edit their development goals;
Goals can be public and visible to a wide range of colleagues (this will help "socialize" goals);
The employee should have the opportunity to participate in mentoring programs that will support the employee in meeting goals (SF Mentoring);
Using the SF Continuous Performance tool, the employee and their supervisor review goal achievement on a regular (weekly or bi-weekly) basis;
Using the SF Continuous Feedback solution, employees regularly request feedback from others in the organization.
A digital transformation project in the area of intentional learning can evolve and in subsequent, short (e.g. 3-month) periods expand the set of tools available to employees (e.g. SAP SF Work Zone can be a virtual work environment where employees share knowledge and work together to achieve goals; SF Learning can be a platform with a development training package).
 Goal management and development in SAP SuccessFactors
3 development goals for 3 months
Feedback at your fingertips
Access to mentoring programs for each employee
SAP SuccessFactors Work Zone can be a social platform for knowledge sharing
Priorities in HR Transformation
According to PwC (20th CEO Survey), 77% of CEOs fear that a shortage of skilled employees may disrupt the growth of their company. They consider soft skills – creativity, innovation and emotional intelligence – to be the most valuable, while signaling that they are the most difficult skills to acquire. These are the attributes that guarantee the success of digital transformation and HR departments should think about them. The top priorities in a digitalization strategy should be:
Employee learning supported by e-learning systems;
Knowledge sharing and socialization of processes through digital workplaces;
Managing digital talents.
The challenge for HR
In 2020, Gartner surveyed nearly 6,000 employees across a range of industries (Digitalizing HR to Improve the Employee Experience). Among other things, they were asked to rate the support HR departments offer employees in improving their performance. Only 29 percent of respondents rated them positively. So HR departments face many challenges. Time is pressing. The solution can be agile, evolving projects that give employees and managers quick results and simultaneously change the organizational culture.