The repair and management of aircraft spare parts inventory is an expensive element of aircraft maintenance. The RIOsys solution from Armac Systems based in Drogheda, Ireland, provides intelligent tools for the optimization of MRO (maintenance, repair and overhaul) inventory for the aviation industry. Armac collaborated with BCC (now All for One Poland) to develop a solution to integrate RIOsys with SAP ERP Air & Defense, and consequently obtain the Powered by SAP NetWeaver certificate, creating new opportunities for Armac within the aviation marketplace.
RIOsys, from Armac Systems based in Drogheda, Ireland, is a leading MRO inventory planning and optimization solution for the aviation industry. It is used by airlines and aircraft maintenance orgnisations for planning and optimization of rotable and consumable parts. Armac's solution enables the organization to significantly reduce their MRO inventory investment, delivering annual inventory cost savings, while improving and maintaining service levels and delivering improved management control.
One of the unique features of RIOsys is its integration with ERP systems such as SAP. The integration framework allows RIOsys to monitor and react to spare parts inventory movements within SAP's Materials Management processes. RIOsys responds to SAP with subsequent optimal stock distribution decisions made either by planners or automatically using RIOsys decision support rules, which are then transacted through the appropriate Materials Management processes.
Automation of both optimal planning and enforcement of decisions related to inventory management in the integrated environment is the key advantage of the integrated SAP – RIOsys environment.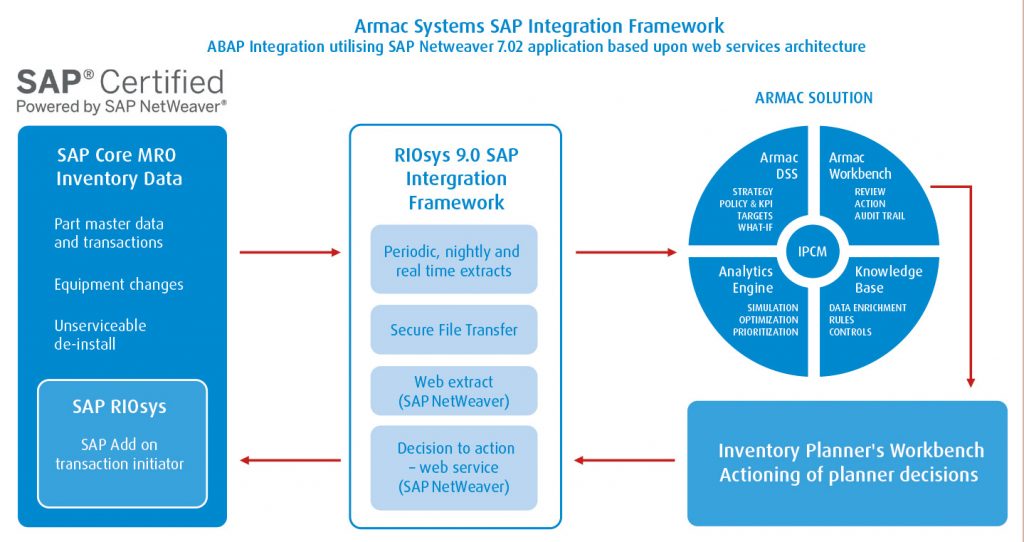 Spare parts management
Spare parts management is a very specific process within aircraft maintenance which entails planning for very expensive components (e.g. landing gear, thrust reverser) which are repaired and reused when they breakdown. Inability to predict the demand for specific parts (unpredictability of failures), geographic distribution (part warehouses are located at different places, often in different countries or on different continents), combined with the time pressure (the aircraft must be brought back to operation as soon as possible) all raise major challenges for effective management of inventory levels.
Armac determined that planning for MRO inventory required the application of a specific planning model, the "repair to reuse" model, which differs significantly from those available in SAP ERP as standard. These are built to satisfy the needs of typical production and manufacturing industries and are inappropriate for MRO inventory used to support planned and unplanned maintenance events.
The RIOsys solution has been designed specifically to support the requirements of rotable, repairable, consumable and expendable inventory. It is used to determine the optimal target stock levels at each location throughout the MRO network and reacts to stock movements and changes in order to return the network to optimality. This maximizes inventory availability while minimizing the investment required.
In order to accomplish this, RIOsys extracts data on rotable spare parts from SAP, along with forecasts of demand from the airline's flight scheduling systems, and determines optimal part network distribution using its advanced analytics engine. Changes to stock positions during the planning period are recorded in RIOsys, so that the actual versus optimal stock position per network location can be calculated continuously, and relevant actions can be recommended.
These actions include stock transfer orders and maintenance orders that are executed directly in SAP using the standard ​​Plant Maintenance functionality. In order to directly initiate these actions in SAP, as well as extracting live stock movement data from SAP into RIOsys, Armac developed an extension (component) between RIOsys and SAP – a standard interface which would support data transfer between the two systems.
A verification of the RIOsys solution by SAP consultants from Walldorf confirmed that it complements SAP tools for the aviation and defense industry and paved the way for certification of RIOsys and SAP industry solution for aviation: SAP Aerospace & Defense.
Armac invited BCC (now All for One Poland), an experienced SAP partner specialized in the implementation and development of the SAP system across a range of industries, to collaborate on the project. In the past, BCC have managed similar projects to integrate partner solutions with SAP, aimed at obtaining the Powered by SAP NetWeaver status.
As a result of our collaboration with BCC, Armac are delighted to be able to offer customers a best-in-breed total solution for MRO inventory planning, using the maintenance management capabilities of SAP software along with the proactive inventory optimization and decision support capabilities of RIOsys. The compelling business benefits for MRO organisations of high service levels at lowest possible inventory cost provide a winning combination in today's competitive aviation marketplace.
Project scope
The interface development work was conducted from July to October 2013. Before the Business Blueprint phase, BCC conducted a detailed workshop with consultants from Armac Systems, aimed at gathering the specific requirements for the solution, approach and project implementation.
BCC consultants were responsible for the development of interfaces using the ABAP technology with the use of WebServices as ABAP AddOn. In turn, Armac were responsible for making adjustments in RIOsys to support the SAP interfaces within the scope of transmitted parameters and data formats. The project was executed in cooperation with the SAP Integration and Certification Center (SAP ICC) in Walldorf, which provided detailed information on certification requirements and consulting support, they also piloted the solution certification process.
The standard interface is dedicated for SAP ECC 6.0 EHP5 with Aerospace & Defense Industry Solution. For the project, BCC launched a separate SAP A&D system in the All for One Data Centers, serving as a "laboratory" development and testing solution which modelled inventory management and repair processes.
We were very impressed with our project engagement with BCC (now All for One Poland). Their SAP subject matter expertise and technical integration knowledge were of significant benefit in delivering the project on time, on budget and to the high quality standard needed for SAP ICC certification. We look forward to a long and profitable working relationship with BCC as we partner to implement our SAP Integration Framework for customers.
Main enhancement functions
Critical to the development of the integration framework was the enablement of the exchange of relevant stock balance data between SAP and Armac's solution. This is done through the exchange of electronic messages which are the carrier for implemented interfaces.
The scope of the solution integration includes interfaces for the transfer of information including master data, installation status, stock balance and order changes. The stock status updates are an important factor which influence RIOsys optimization recommendations, the effect of which is, for example, the creation of a new maintenance order in SAP.

Integration of RIOsys with SAP
The SAP system is the main source of information for spare parts stock balance and updates.This is where all inventory management activities, relevant for the MRO business, are executed.
The key interfaces for RIOsys inventory planning and optimization include:
Periodic extract of parts stock balance data: Based on current and historical data, it is possible to plan optimum target stocks of parts at each geographic location within an airline's operational network. Current values at different locations are compared with these target values, which makes it possible to recommend the actions necessary to optimally balance the stock availability across the network and prepare the appropriate stock movement recommendations needed to achieve this balance, including the creation of specific customer rules to automate the balancing process. These recommendations are managed through the RIOsys Inventory Planner's Workbench;
All updates are communicated, such as installations made on an aircraft, purchased parts, returns, etc. The impact of these updates is mapped at relevant stock locations, which enables optimal re-balancing of inventory throughout the network to maximize availability;
Real-time equipment extracts – data transfer from SAP to RIOsys as a result of the removal of unserviceable equipment: Optimal actions are presented in RIOsys through the Inventory Planners Workbench.
Real-time web service SAP interface: Approved recommendations from the RIOsys Inventory Planner's Workbench are transferred to SAP through WebService. This initiates the relevant SAP transaction such as maintenance order or a stock transfer order. The equipment status is subsequently updated, for example from serviceable to liquidated.
Component ready for the customer
In order to ensure the integrity of transaction processing as well as the most up-to-date information in RIOsys, interfaces were prepared as two groups of WebServices for the data transfer to and from SAP.
The whole solution was prepared using SAP Add-On Assembly Kit (AAK) as an independent component ready for import into the customer's SAP A&D. In addition to the integration component, installation and administration documentation are provided as part of the solution.
Powered by SAP NetWeaver: a BCC offer for suppliers of SAP complementary software
For companies which offer applications cooperating with SAP, BCC (now All for One Poland) executes projects adjusting their solutions to SAP technology. The possible scope of cooperation is:
the migration of applications to SAP technology,
the preparation of solutions for SAP AG certifications (certificate Powered by SAP NetWeaver).
In recent years BCC has completed such ventures for an American company, PROS, and the Dutch company HAI among others.
BCC has integrated PROS solutions – the world leader of software for price management optimization– on the SAP NetWeaver platform. The effect of the project, supported by BCC, was a final integrating solution based on SAP NetWeaver platform including integrating technology SAP XI (SAP Exchange Infrastructure) and a corporate SAP NetWeaver Portal. The solution allows the PROS clients to faster and more effectively integrate the PROS Pricing Solution system with the infrastructure of the SAP systems they have.
BCC has developed a similar project for the Dutch company HAI. HAI is a supplier of HAI*QPM (Quality & Performance Management) an application for production optimization thanks to an increase in the efficiency of production lines on the basis of on-going real time monitoring and data reporting. The company, in cooperation with BCC, adjusted their solutions to the needs of clients who expect a full integration of the QPM solution with the SAP ERP production model. BCC's task was to migrate the QPM application to the SAP NetWeaver technology with the use of the Java language and WebDynpro technology.
In both projects BCC was responsible for preparing the clients' solutions for the SAP AG certifications. The 'Powered by SAP NetWeaver' certificate is awarded by SAP AG exclusively to the high class complementary applications for SAP solutions based on SAP NetWeaver technology.
Powered by SAP NetWeaver
At the end of October 2013, the SAP Integration and Certification Center (SAP ICC) which piloted the interface development project, certified that the RIOsys 9.0 solution from Armac Systems integrates with the SAP NetWeaver 7.02 platform and runs as ABAP extension to the SAP ERP system. The solution complements the service planning and materials management tools and other functionalities of the SAP ERP A&D system, providing a fully integrated MRO inventory optimization solution for rotable, repairable, expendable and consumable inventory.
ARMAC Systems
is an Irish company dedicated to the design, development and implementation of specialized applications for MRO (Maintenance, Repair & Overhaul) inventory planning and optimization. Armac's unqiue solution, RIOsys has been designed specifically to support MRO inventory planning within a complex maintenance environment. The solution helps clients to reduce their MRO inventory investment while simultaneously increasing service levels. SR Technics and Thomas Cook Aircraft Engineering Ltd are just two of the leading aviation organisations using Armac's solution.
More information:
www.armacsystems.com