Function overview
BeeOffice
Take control of time in your company
Manage leaves and work schedules. Keep time records – record absences, overtime, clock-ins and clock-outs. Use them for working time accounting by projects, tasks or clients.
Accelerate the flow of information and getting things done
Bring order inside the organization. Provide employees with a tool for reporting personnel matters and requests. Assign matters to the appropriate specialists and control their handling. Accelerate information flow and decision making.
Account for expenses of business trips, cars and fuel
Account for expenses of business trips electronically. Employees will enter the data themselves and include photos of receipts, and the accounting department will quickly and efficiently settle costs and allowances. Automate the accounting for expenses of company and private cars. Manage your fleet and its servicing.
Business trips – accounting for business travel expenses
Cars – accounting for fuel expenses, mileage allowance, a base of company cars
Use property and equipment efficiently
Organize the records of your equipment. Enable employees to book shared resources. Keep a list of licenses and permissions assigned to individual people. Control your expenses through electronic purchase requests.
BeeOffice integration with other systems
A key element of BeeOffice package is the ability to integrate with systems existing in the company, including ERP or HR. In this way, BeeOffice becomes a natural complement to existing IT solutions.
The exchange of data can be carried out in different ways:
BeeOffice exports/imports text or XML files, adjusted to the format used by other systems (SAP, Comarch Optima, Sage, Navision, or other agreed upon during system implementation).
BeeOffice calls up the web service API on another system to transfer or retrieve data from it. A typical example of such integration is e.g. entering leaves into the HR system or posting business travels in the company's financial and accounting system, based on requests approved by BeeOffice.
BeeOffice offers a wide range of API REST functions, which can be used by your company's IT team or another provider integrating their solutions with BeeOffice. API REST offers access to the reading and modification of several dozen 'data objects' and is constantly evolving.
API REST BeeOffice is made available through the Swagger framework, which provides clear documentation and API testing environment built into the application.
What is BeeOffice used for in your company?
For large companies, BeeOffice is a natural complement to existing IT solutions. Some of the BeeOffice functions can be activated for the whole or a large part of the organization (e.g. company's who is who for all office workers), and some – only in a selected area (e.g. schedule only for service team workers). On the other hand, BeeOffice in small companies can bind together the daily functioning of the organization.
BeeOffice is a virtual specialist for simple and repetitive, but important and often "neglected" IT issues. There are various reasons why these processes remain unattended by IT solutions operating in the organization:
current systems do not have such functions at all, because they focus on another area (e.g. classic ERP, HR, CRM, corporate intranet)
supporting a given process with the current system would be costly, e.g., due to high license or implementation costs
the process has so far been regarded as "impossible to computerize" or too trivial – no one has considered the possibility of handling it in any other way than "verbally" or "on paper"
the company or the department have limited influence on the purchase or development of IT tools (e.g. the company uses a corporate ERP system without the possibility of interference in it; the department does not have a budget for the purchase of IT tools for its own use; the company does not have a developed intranet)
From the need to the solution
What else would you like to improve? What else would you like to improve? Are there other areas, significant functions or activities not supported by the existing IT systems? You did not find them in BeeOffice's description on the website?
Maybe:
BeeOffice already has a function you are waiting for – only we named it differently
we plan to make such a function available, maybe even we are working on it
we will develop such a function in BeeOffice especially for your company
Do not hesitate to ask us – use the contact form.
More options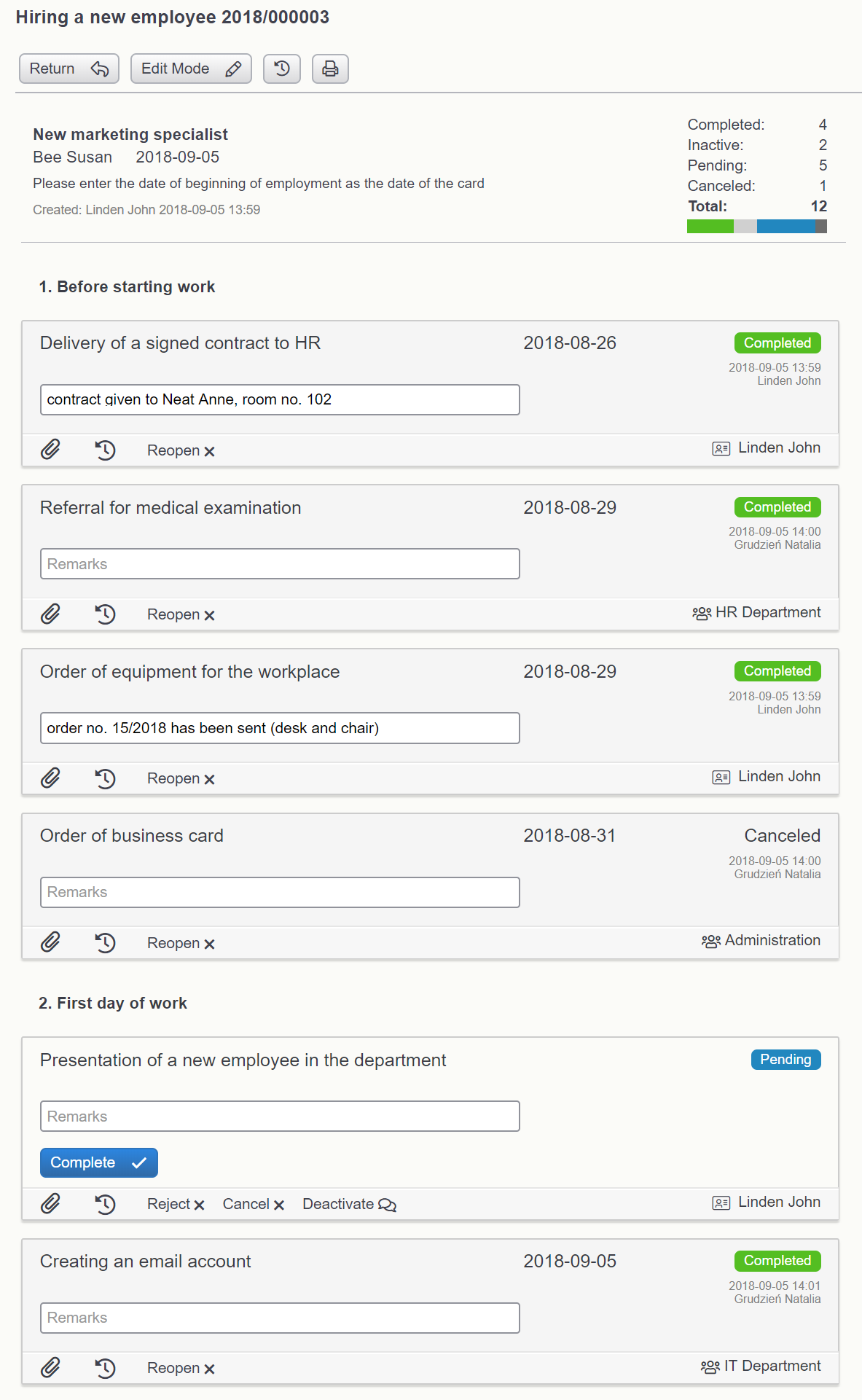 Task sheets allow tracking routine repeatable tasks that require coordination of many teams/persons. For instance HR procedures (new employee hire or termination), administrative (contract approval by various departments), IT (checklist for data center infrastructure), etc.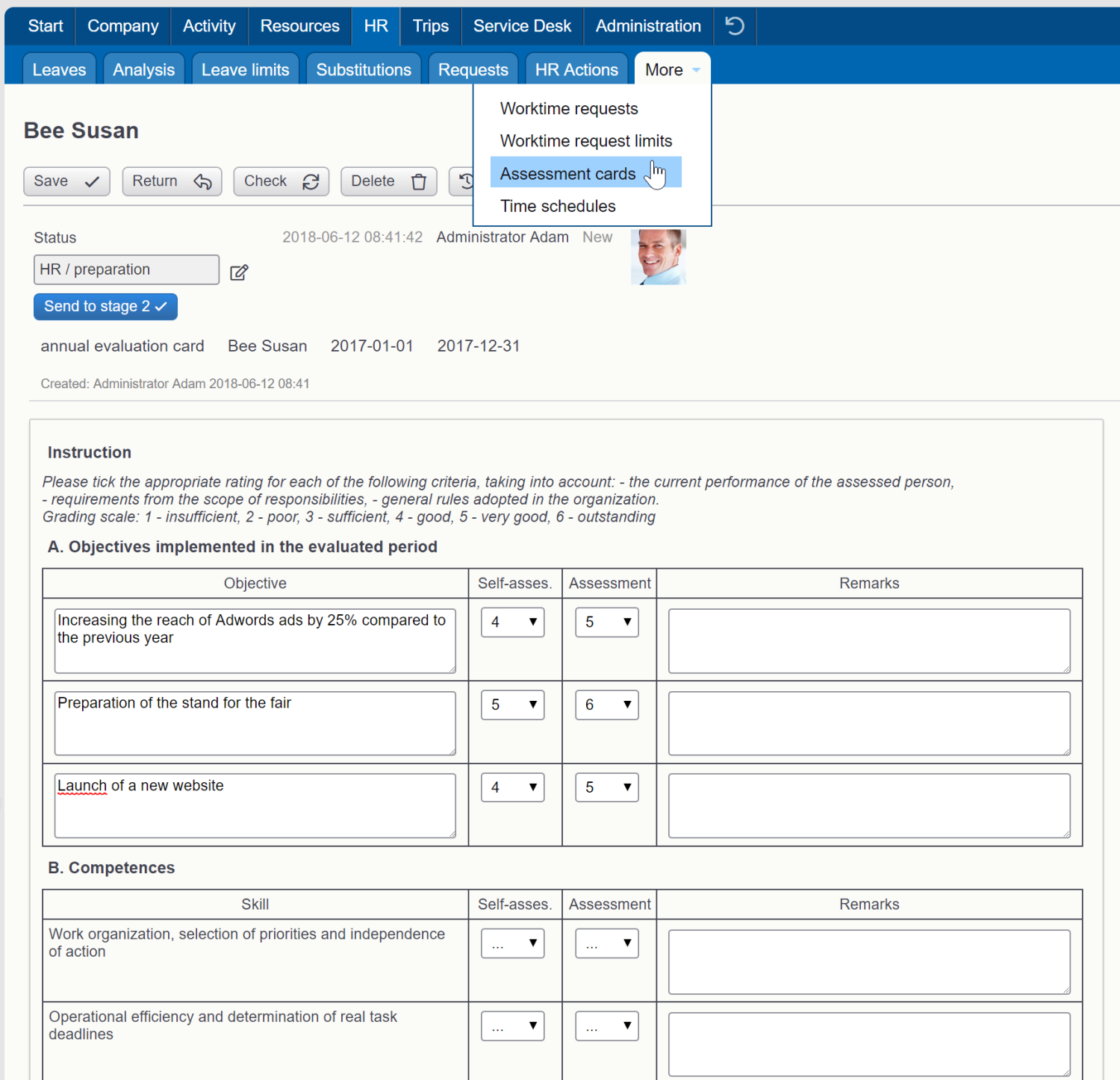 Assessment cards help in periodic employee review process. Form structure and workflow process may be flexibly adapted to company needs.

//