With SAP Business One, Hamech obtained a reproduction of all key business processes in one integrated system. However, the most important from the nature of its business activity is reliable information on profitability, taking into account the actual labor costs and indirect costs of investment conducted. All thanks to integration with CAD 3D Inventor, a tool for recording working time and the possibility of cost accounting for particular projects in SAP Business One.
Zakłady Maszynowe Hamech in Hajnówka is a known company in the wood industry for more than 60 years. In 2013, the plant underwent a change in ownership – the majority shareholding was acquired from the National Treasury by Nasycalnia Podkładów in Czeremcha. This transformation of ownership initiated major changes in the management of the plant. After many lean years, under the supervision of the new owner the company made a profit just after a year.
Currently, Hamech is increasing employment, expanding its product portfolio and successfully gaining access to new markets – in addition to traditional markets, such as Belarus and Ukraine, it is acquiring increasingly more customers Western Europe.
A significant factor in its development alongside an experienced design department is modern machinery and tools. Among the latter, it is worth mentioning the program CAD 3D Inventor, which supports designers in the process of creating a prototype, and then preparing documentation and implementing it into production.
Another significant IT solution recently used in Hamech is a system for integrated management of SAP Business One. During the implementation of the ERP class solutions, the company had two basic objectives:
to implement an integrated data entry system, control of accounting processes, production, purchasing, sales and warehouse,
to facilitate ongoing control of costs and revenues broken down into multiple dimensions and to obtain analytical and reporting tools supporting the management of the company.
The system start up took place in August 2015. Hamech's implementation partner was 7milowy from the BCC Group (now All for One Poland), a leader in the implemetation of SAP systems for small and medium size enterprises.
Better planning, greater profitability
As pointed out by  Ryszard Sokołowski, President of the Board  in Zakłady Maszynowe Hamech "the implementation of SAP Business One has streamlined work in the areas of accounting, HR and payroll, sales, design, technology, warehouse, production, maintenance and quality control. It has enabled us to obtain reliable information vital in the management of the company. As an example, reliable information on technical costs of production are the basis for customer specific pricing and adoption of a pricing strategy towards competitors.The system allows to specify deviations from manufacturing standards during the construction of the same products, which is relevant for repetitive products. Thanks to the system, we can plan production processes with an accuracy of 2-3 hours, set a safety margin on materials according to the order fulfillment time, control the purchase of materials by tracking the last purchase price. In addition, we have installed localization codes at the material warehouse dispersed in several separate storage rooms, which significantly facilitates work.SAP Business One also allows us to monitor the profitability of production machinery and equipment based on information on labor costs of the Maintenance Department and the purchase value of consumables and spare parts. Also of importance from our point of view, is the conversion of structural drawings for the demand of materials broken down into commercial goods and production materials.
The SAP Business One system covered the following areas:
warehouse management,
sales,
logistics including (order picking),
purchases,
maintenance department,
tool room,
quality control,
administration,
production (welding shop, bricklaying area, paint shop, locksmith area) +MRP,
accounting,
employees,
reports,
sales representatives,
complaints,
agreements with contracting parties to supply (boilers, silos, dryers etc.),
registeration of working time for ordered production (TAS system)
Finance
By implementing SAP Business One, Hamech obtained an integrated finance and banking management system.. The automation of accounting operations and the handling of all basic transaction in a single system means significant time saving, access to current and accurate management information online. Business decisions are taken based on reliable data, reflecting the actual image of the company.
SAP Business One supports the generation of balance sheet, profit and loss account, and cash flow reports, allows you to make entries into the general ledger, supports VAT registration (declaration of VAT7 and EU VAT) as well as preparatiion of cash report. The month and year closing procedure is faster and more transparent in SAP Business One.
Additionally, the (add-on) system supports the import of bank statements, which resulted in a real reduction of service time in the process.
Logistics and sales
The solution includes tools supporting procurement processes: RFQs, purchase orders and returns, liabilities (handling of invoices, invoice corrections).
In terms of sales, the system allows tendering, creation of orders and delivery, handling of returns. Invoicing (including adjustments) takes place directly in SAP Business One, which also results in the creation of a corresponding accounting entry. The system keeps a history of outstanding customer payments, which enables the monitoring of receivables.
SAP Business One supports the creation and printing of relevant sales and procurement documents
Accurate information on transaction costs helps to better control production profitability.
In the area of warehouse management, a high stacking storage was introduced, with precise addressing of storage locations. In addition, we now use batch numbers and serial numbers, which supports transparency in the management of inventory and finished goods.
Comprehensive warehouse management, current information on the inventory balance, better record of goods and their precise location means better order and time saving as well as improved customer relations (information on the number and batch can be used for example. in the planning of technical service or warranty repairs at the customer).
Production – integration with CAD Inventor
Hamech's sales success relies on an individual approach to the expectations of its customers, which means that in addition to standard offers and finished products in every field of production, the company is able to meet customized, and structurally advanced non-standard expectations.
This is the strong point of the factory, where a lot investment is ongoing, among others, equipping the construction department with advanced design tools.
The integration of the CAD 3D Inventor with SAP Business One, as well as the implementaion of tools supporting production processes, was one of the key elements of the project.
In most cases, the execution of the order for the customer entails composing finished products (for example. Boilers, dryers, silos, conveyors), and modifying/adpating them according to customer specifications.
In the CAD Inventor application, Hamech's design team develops a customized project for the customer, which finally contains technical drawings, a bill of materials, description of necessary changes and work specifications.
Such a prepared project of the working structure of the product – in the form of a .txt, .xls file – is exported from Inventor to SAP Business One, where it takes the form of a product tree. For the import and "rewriting" of the file into the system language, a proprietory application of 7milowy (so-called add-on) is used, created for the need of integrating CAD Inventor with SAP Business One.
The standard stucture of the product tree in the Hamech's SAP system reproduces every investment (project for the customer) Further implementation of the order in SAP is carried out using standard functionality of the system, such as the preparation of orders and subcontracting of orders, production, schedule of tasks implementation based on the production plan.
The use of the ERP system to organize production processes and shedule activities is a major step in organizing production and a value in itself However, the most important goal of the company was complete control of production costs and measurement of the profitability of particular investments.
For this purpose, the Ant application was used (another add-on integrated with SAP Business One) used for recording working time.
One of the objectives for implementing SAP Business One was complete control of production costs and measurement of the profitability of particular investments.
Registration of working time
In Hamech, the project nature of work was also used for gathering information on costs and revenue. Working time registration takes place by division into projects/orders.
Working time registration for orders occurs in the registration system of production orders with an accuracy to the activity performed and registration of the quantity (e.g number of pieces of a particular product) produced during operation.
For each production employee of Hamech in the SAP system – in addition to recording standard HR data – a skill map was created containing a catalogue of activities and operations that a particular employee can perform or has qualifications to perform.
This tool is used by the production manager, when schedulling work or assigning tasks within a project (production orders). Each project is assigned to concrete activities, each activitiy is automatically assigned to an employee with a particular skill.
When commencing work, the employee runs the Ant application, which displays his/her list of tasks, sorted out according to date of implementation (signing in with the help of a personal card with a bar code). The employee has a view of his/her tasks in particular projects along with additional information (number of pieces, time of execution, materials collected/to collect, components etc.). Upon selecting a particular order and operation, the employee has access to the specification of the product, thanks to which he/she knows which materials to use for the production order. Upon selecting a task and pressing the Start button, a timer starts to measure the implementation time of the activity. (it is possibile to take breaks during work – Pause button).
When an employee wants to register the completion of work on an activity performed, he/she logs into the application again using his/her employee card. The system immediately displays the currently registered activity. The employee completes the registration of his/her task by pressing the Stop button. He/she may enter additional information in the dialogue box, such as quantity produced and a comment. He/she may also enter information on shortages that occurred during implementation. In the next step, the employee may register the commencment of work on the next task.
The application's interface is transparent, in intuitive to use and very works well on mobile devices with a touch screen, which is of great significance in the production hall.
In addition, the production manager has a current report, showing what is actually going on in the production hall, who is performing what tasks. The production manager may also check the status of particular orders by comparing work progress with the completion dates, which is used to control tasks.
Information on working time – collectively for the entire project and as a breakdown by individual activities – return to SAP Business One, where production is assessed. Subsequently in the HR and payroll system, remuneration is calculated for employees on particular investments (projects for customers). This data is used to allocate indirect costs to particular projects (depreciation of tools, electricity costs, other factory-related costs).
As a result Hamech obtains real information based on genuine data on the total cost of production, and subsequently solid knowledge of margins and profitability of particular projects.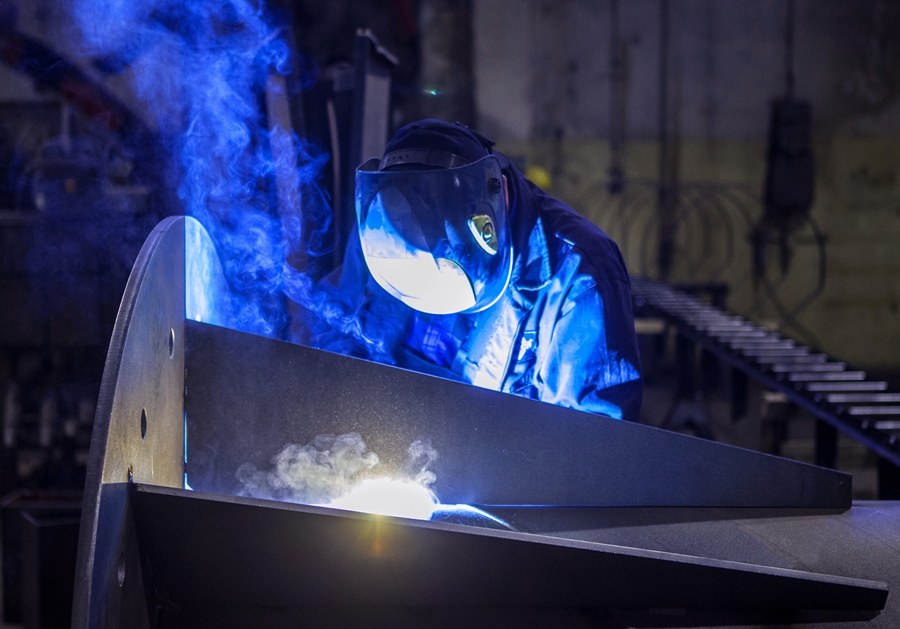 Valuations, standards, actual costs
In recent years in several manufactirung companies, minimizing the margin of error in the evaluation of labour-intensive tasks has become a major challenge resulting from high turnover in the labor market and difficulties in recruiting qualified and experienced employees. The old manufacturing standards are inconstitent with the new realities, which in many cases may translate to an underestimatioin of working time, errors in scheduling and planning profitability of projects.
In Hamech, data on working time required to perform a specific type of activity is used in further valuations of projects.
As many other manufacturing companies, Hamech relies on standards when evaluating the labour-intensity of work.for clients. The actual recording of labour-intensity of partricular tasks available in SAP Business One serves to correct and make production standards more realistic ,and thus allows for a close to reality valuation of subsequent projects.
Hamech also decided to use the hosting system in All for One Data Centre, which guarantees its availability and high efficiency in accordance with the parameters specified in the SLA agreement.
System Maintenance
By implementing SAP Business One in cooperation with 7milowy, Hamech also decided to use outsourcing services of the BCC Group. The current system is hosted in the All for One Data Center, which guarantees its availability and high efficiency in accordance with the parameters specified in the SLA contract
Hosting in All for One Data Centers provides access to a modern and secure technical infrastructure (twin data processing centers in different locations), as well as the competence of IT professionals and highest standards of work (including,  Information Safety Management System in compliance with ISO 27001 and IT Services Management System in accordance with ISO 20000, and the monitoring center available 24/7).
An integrated system, better management
The valuation of custom production for an individual customer order based on reliable, updating of production standards allows Hamech to retain the profitability of its projects, which is one of the critical elements of the remedial program currently implemented in the plant.
Current data on production, storage, sales and finance, available in one, integrated SAP Business One system is an important tool for business development and expansion into new markets.
Zakłady Maszynowe Hamech
specializes in comprehensive realization of drying and energy facilities, as well as creation of new, and modernization of old boiler rooms and dryers for wood fruits, vegetables and tobacco based on proven technologies. In 2014, the company included into its commercial offer grain silos  of type SZP and SZLW, designed for the storage of cereals seeds, rape, corn and other granules. Hamech also produces heat, which is used in Stirling engines and converted into mechanical energy. It also produces gasifiers, which is a device for gasification (gas production) of wood, its industrial waste or wood-derived fuel. The company from year to year expands and improves its product range, using technologically advanced equipment in the design department, production department and experienced staff.